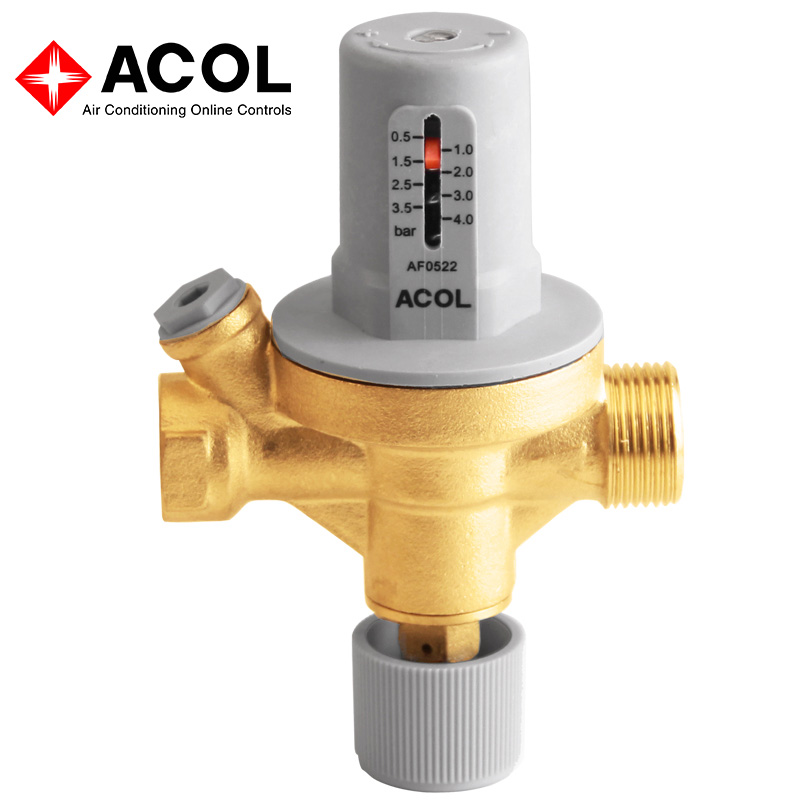 ACOL Automatic water supply valve with visual adjustment
ACOL(Shanghai) Online Controls Co., Ltd
product brand:ACOL
product specification:AF0520/AF0522
product category:Air Conditioning-Central air conditioning plants-
product introduction:Af0520 / af0522 automatic make-up water valve has the functions of pressure reducing valve, stainless steel filter, stop valve and check valve. Af0522 has the world's first vertical make-up water pressure adjustment scale display, which has obtained the national patent. It can be set freely on site according to the water pressure of the system. The application of the vertical scale automatic make-up water valve in wall mounted boilers, small boilers and central air conditioning water system can reduce the debugging and maintenance costs of equipment manufacturers and installers. Incorrect make-up water pressure may lead to insufficient make-up water in the system, a large amount of air in the system, resulting in cavitation of water pump, insufficient water flow, and even icing of heat exchanger. The automatic make-up water valve is equipped with pressure reducing and stabilizing device. The pressure value can be adjusted with the pressure gauge or according to the scale of the make-up water valve, and the system pressure after adjustment can be maintained automatically. When the system pressure decreases, the water injection will be opened automatically, and it will be closed automatically when the set pressure is reached, so as to avoid damaging the system equipment due to too high water pressure. The automatic make-up valve has the function of check valve to prevent backflow when the make-up water pressure decreases or stops. The automatic make-up water valve has the function of manual stop valve, which can close the make-up water source by turning in the plastic knob. Flexible large diaphragm design: the effective area of the diaphragm is large, which is 40% larger than that of the diaphragm of similar products. This ensures that the valve can act when the pressure changes slightly, and ensures the stability and control accuracy of the system pressure.